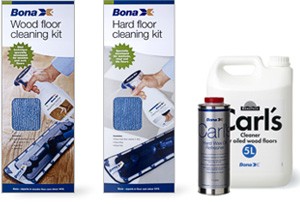 Wood Floor & Hard Floor Maintenance Aftercare Packs are available through GJP Floor Sanding Brighton on completion of your floor restoration or installation service.
Having invested in your newly fitted / sanded floor it's well worth looking
after the finish so that it lasts and maintenance is the key to the lasting beauty of your floor.  Check your quote if your service includes a FREE Maintenance Gift Pack, available for collection in store.
Clients with wood floor restoration and installation services finished with lacquer would require Bona Wood Floor Cleaning Kit.
Clients with wood floor restoration and installation service finished with oil or hardwax will require BonaCarl's Cleaner or Bona Hardwax Refresher.
Maintainence / Cleaning Advice
No maintenance or cleaning products should be applied until 2 weeks after the wood floor has been lacquered. Do not use water to clean wood floors, always use a recommended cleaner.
Never use vinyl or tile floor care products on wood floors, they can cause the floor to become slippery and appear dull.
Place mats and throw rugs at doorway exteriors and interiors to help prevent the tracking of grit and dirt on your wood flooring.
Never wet-mop a wood floor. Standing water can stain or damage the wood.
Wipe up food and other spills immediately with a slightly dampened towel.
Preventative Measures
NPlace soft plastic or fabric faced glides under the legs of furniture to prevent scratching of your wood floor.
When moving heavy furniture, completely pick it up rather than sliding it across the floor to best protect your wood flooring.
Try not to let people walk on the wood floor with stiletto-healed shoes as these can cause damage.
In the kitchen place a rug in front of the sink area.
Use a humidifier in the winter months to keep the movement of wood to a minimum.
Dust mop, sweep or vacuum your wood floor regularly. Clean with manufacturers recommended cleaner.
Recoat the wood floor when cleaning no longer restores shine. The frequency of this will depend on the amount of traffic.

GJP Floor Sanding Brighton is partnered with and recommends Floor Care Cleaning Services for all your professional floor cleaning needs.
Floor Care Cleaning Services provides comprehensive Wood, Stone and Vinyl floor cleaning, restoration and maintenance services to both domestic and commercial properties throughout Brighton, East Sussex and the Surrounding Areas.
Floor Care Cleaning Services specialize in many types of flooring, including the maintenance of all wood and laminate floors, all vinyl and linoleum floors and the cleaning, restoration and maintenance of all stone floors. Click here to view their website.